See on Scoop.it – DidYouCheckFirst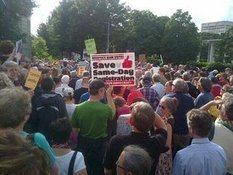 Individuals are risking arrest to draw attention to the policies of GOP Governor Pat McCrory and the conservative-run General Assembly—including cuts to social programs, education reforms, a rejection of federal funding to expand Medicaid coverage, and changes to voting laws—which protesters call "an assault" on the state's poor and unemployed.
Greg Russak's insight:
"We're going to continue our acts of civil disobedience because the General Assembly has made a cruel attack on the most vulnerable people in this state," declared Rev. William J. Barber II, president of the North Carolina chapter of the NAACP. – Lauren McCauley, staff writer, Common Dreams
See on www.commondreams.org
From related article on Moral Mondays (http://www.commondreams.org/headline/2013/05/14-3)
According to the group—in just the first 50 days of their work—this 'super-majority' has already voted and passed legislation on the following:
Deny federal funds for Medicaid to 500,000 poor North Carolinians.
Take unemployment benefits from 165,000 North Carolinians.
Raise taxes on 900,000 of North Carolina's poor and working poor by ending the Earned Income Tax Credit to pay for tax cuts to 23 millionaires.
That took over a billion dollars last year from public education, made plans to implement a voucher plan to hand out public money to private schools, and reduce eligibility to preschool for poor children.
To re-start the death penalty and repeal the Racial Justice Act that has exposed the racially discriminatory application of the death penalty.
To codify anti-labor language in our state constitution.
To roll back Early Voting, ban Sunday Voting, end same-day registration and impose an unneeded poll tax disguised as Voter ID bill that will cost the state millions, deny student ids from private schools, increase disenfranchisement of formerly incarcerated, charge parents a $2500 tax (poll tax) if there college student votes at college and not at home, and leave us with voting laws more restrictive than Alabama and South Carolina.