See on Scoop.it – DidYouCheckFirst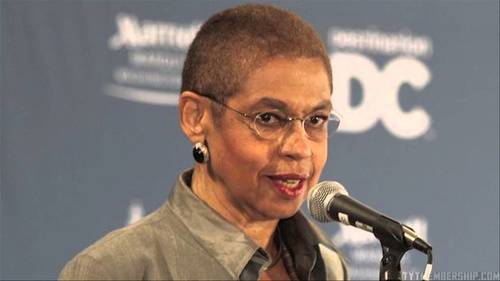 Join the fight against money in politics: http://www.wolf-pac.com Congresswoman Eleanor Holmes Norton left a voicemail for a lobbyist in which she brazenly b…
Greg Russak's insight:
Democratic Congresswoman Eleanor Holmes Norton is the latest poster child for the corrupting influence of money in politics.
If you're fed up with this, don't do nothing. Here are a few suggestions for how you can get involved and make your voice heard:
1. Become a Citizen Co-Sponsor of the American Anti-Corruption Act: http://unitedrepublic.actionkit.com/event/cosponsor/9815/
2. Join forces with Coffee Party USA to demand your representatives go on the record for their plan to fix Citizens United:
http://www.coffeepartyusa.com/ask_your_representative_to_be_a_leader
3. Support Wolf PAC's efforts to states to call for an Article V Convention of the States to amend the Constitution to end corporate personhood and publicly finance all elections in our country:
http://www.wolf-pac.com/ 
4. Raise awareness! Share this with people you know, and add your ideas, favorite causes, etc., to this list!
See on www.youtube.com