See on Scoop.it – DidYouCheckFirst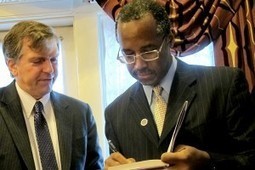 The nation very well might need strong medicine, but the famed neurosurgeon and conservative heartthrob is not the one to administer it.
Greg Russak's insight:
We're not all cut out to be leaders. Looks like we can add Carson to that list.
"Last April, Carson linked gays to pedophiles and "people who believe in bestiality." His"That's not an orange. …That's a banana' attempt to explain himself a few days later stretched the limits of ridiculousness. And what he said about Obamacare at the Values Voters Summit last October rendered him unworthy of high office. "You know, Obamacare is really, I think, the worst thing that has happened in this nation since slavery," Carson said."
See on www.washingtonpost.com