See on Scoop.it – DidYouCheckFirst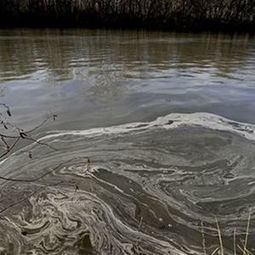 In one of the worst coal ash spills in U.S. history, up to 27 million gallons of contaminated water and 82,000 tons of coal ash spilled into North Carolina's Dan River after a pipe burst underneath a waste pond. That is enough toxic sludge to fill more than 70 Olympic swimming pools. The river has turned grey for miles, and environmentalists say they have found arsenic levels 35 times higher than the maximum set by federal regulators. Did state regulators intentionally block lawsuits against Duke Energy in order to shield the company where Republican Gov. Pat McCrory worked for 28 years? We speak to Amy Adams, who recently resigned from the North Carolina Department of Environment and Natural Resources in protest of changes at the agency last year. She now works with the organization Appalachian Voices.
Greg Russak's insight:
"John Skvarla was appointed secretary shortly after Pat McCrory took office. And Skvarla was instrumental in rewriting the mission statement for the agency. He was also the one that was instrumental in pushing and redefining the customer as our—as the industries seeking permits." – Amy Adams, North Carolina campaign coordinator at Appalachian Voices. From 2004 to 2013, Adams was a regional supervisor at the state environmental agency in charge of enforcing surface water standards. She resigned in protest of changes at the agency.
See on www.democracynow.org