See on Scoop.it – DidYouCheckFirst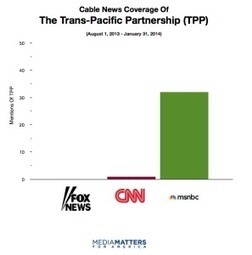 Earlier this month, Media Matters for America published a short research note revealing that most major cable and broadcast news outlets have largely ignor
Greg Russak's insight:
According to Congressional Lobbying Reports linked from this article….
Time-Warner's 1Q2013 Lobbying Report lists $905,000.00 in total lobbying expenses, and a team of 4 lobbying on trade issues that included TPP, the New Zealand Copyright Act (http://fairdeal.net.nz/) and other matters.
Comcast's 2Q2013 report lists total lobbying expenses of $5.47million. They categorize their lobbying related to TPP as "International IP Protection – TPP, WIPO (https://www.eff.org/issues/wipo), and TTIP.
In Q4 of 2013, Twenty-First Century Fox spent a total of $1.52million dollars on all their lobbying including the TPP, TTIP, and Trade Promotion Authority, better known as "fast track" authority.
Disney spent a total of $1.11million in the first quarter of last year on lobbying, spreading their TPP-related lobbying around in the House, the Senate, the U.S. Copyright Office, Patent & Trademark Office (PTO), the Office of Management & Budget (OMB), the Department of Commerce (DOC), and with the U.S. Trade Representative (USTR).
Do we perhaps begin to understand better why it is that the corporate/mainstream media has nothing at all to share with us about the secrecy and the potential pitfalls of current trade negotiations?
See on www.republicreport.org