See on Scoop.it – DidYouCheckFirst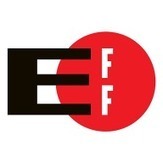 Over 25 leading technology companies have joined a public letter urging Senator Ron Wyden, the newly appointed Chairman of the Senate Finance Committee, to firmly oppose any form of "fast track" authority for trade agreements like the Trans-Pacific Partnership (TPP).
Greg Russak's insight:
In pushing for Fast Track, the Obama administration would strip another layer of transparency and accountability out of the trade agreement process. If it succeeds, TPP and other trade agreements with draconian copyright enforcement rules could get passed with even less democratic oversight. We hope to see the Senator oppose those efforts, and stand firm on his dedication to Internet users and transparent rule making as he takes on a position of leadership over the Congressional trade agenda.
If you're in the US: use this tool to contact your lawmakers, call your representatives, and help us keep the pressure on Congress to oppose Fast Track.
https://action.eff.org/o/9042/p/dia/action3/common/public/?action_KEY=9357
See on www.eff.org