See on Scoop.it – DidYouCheckFirst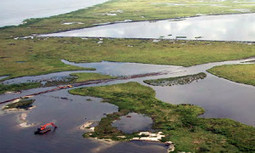 Genuflecting to Big Oil's pressure, Governor Bobby Jindal is
Greg Russak's insight:
You can file this one under, "No Surprise!"
A Louisiana elected official once said "the flag of Texaco flies over the Louisiana State Capitol." Right now that flag is flapping in the face of every citizen. Tax-hating governor Jindall now wants to spend tens of millions of dollars of tax payer money to plug oil canals which companies are required by law to plug themselves. That money pales beside to the $50 billion cost of the state's master plan to protect the coast. Jindal's funding proposal caper will protect his oil industry patrons and stick the public with the bill: taxpayers will cover the costs of damage caused by oil companies.
See on ecowatch.com