See on Scoop.it – DidYouCheckFirst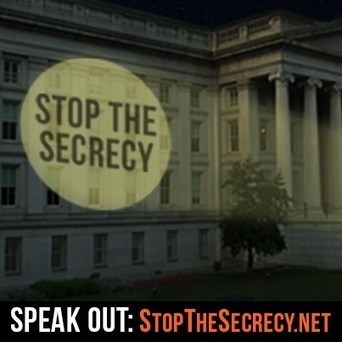 Right now, Obama and other leaders are in closed-door meetings to fast track and finalize the Trans Pacific Partnership. And what they're talking about will shock you.
Greg Russak's insight:
The TPP threatens to censor your Internet1, kill jobs, undermine environmental safeguards, and remove your democratic rights2.
We're going to get the attention of decision-makers and the media by projecting a Stop The Secrecy message on key buildings in Washington D.C. – but we need you to add your voice now.
The TPP is huge: It covers 40% of the global economy and will overwrite national laws affecting people around the world.3
The worst of the TPP threatens everything we care about: democracy, jobs, health, the environment, and the Internet.  That's why decision-makers are meeting in Asia under extreme secrecy and pushing 'Fast Track' laws to cement the plan into place.
This is no way to make decisions in the 21st century. We need to raise a loud global call to expose this dangerous secrecy now.
With every voice that is added to our call, a donor will contribute to make the Stop The Secrecy projection on buidlings in Washington D.C. bigger and brighter. We need to make this as big as possible when Obama returns to Washington on April 30th.
Please add your voice to help us build one of the largest online campaigns the world has ever seen.
Footnotes:
*According to several reports "An early signing of the TPP is expected to be a key topic in a planned full meeting between Abe and Obama when the U.S. president visits Japan." The meetings are taking place right now.
[1] TPP Creates Legal Incentives For ISPs To Police The Internet. What Is At Risk? Your Rights. Source: Electronic Frontier Foundation.
[2] Leaked drafts of the Secret Trans-Pacific Partnership Agreement, Source: Wikileaks. Background on several issues pertaining to the TPP can be found on the Expose The TPP website and in our resources page.
[3] U.S. "Bullying" TPP Negotiators Amid Failure to Agree. Source: Inter Press Service News Agency. *Note: The U.S. and the E.U. are already discussing a similar secretive agreement called "Transatlantic Trade and Investment Partnership (TTIP)". Once the TPP is finalized there will be pressure to harmonize and extend its provisions to TTIP — meaning the E.U. There are also reports of many others countries being added to the TPP once it is finalized.
See on stopthesecrecy.net