See on Scoop.it – DidYouCheckFirst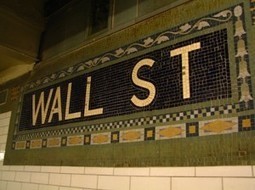 Published on Wednesday, April 30, 2014 by OtherWords
A tiny tax on every financial transaction would curb Wall Street recklessness.by Sarah Anderson
On the afternoon of May 6, 2010, the Dow Jones Industrial Average suffered its fastest nosedive ever. Within minutes, a trillion dollars in wealth went "poof."
What happened?
Read more at
http://www.commondreams.org/view/2014/04/30-10
Greg Russak's insight:
This makes a lot of sense to me. Too bad the Obama administration isn't on board. As any economist will tell you, if you want to curb a behavior, tax it. The people with the biggest and fastest computers sitting closest to the exchanges' servers should not get an advantage…..or be allowed to basically manipulate markets because their programs execute trades milliseconds faster.
See on www.commondreams.org