See on Scoop.it – DidYouCheckFirst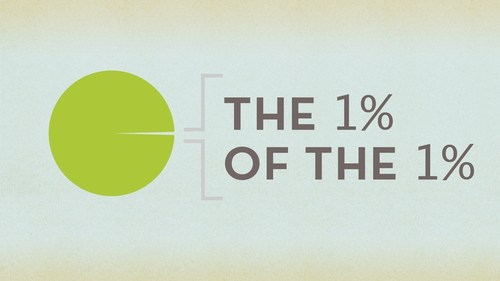 The political elites that make up the top 1% of the top 1% of all contributions to campaigns in 2012 have effectively become the new gatekeepers in American …
Greg Russak's insight:
The numbers aren't hard to understand and they don't lie.
-> $6Billion was spent on the 2012 elections. That's $6,000,000,000.00
-> 25million Americans donated money.
-> 28% of the money, or about $1,700.000.000.00, came from just 31,385 people, making their average contribution just over $54,000.00, or about 3-grand MORE than the median household income.
-> This "1% of the 1%" gave money to every single candidate. Every single one.
-> Since it takes only (ONLY?!?!) $12,950.00 in contributions to make into the 1% of the 1%, and you can begin to imagine how much the top donors in this group are giving to get the average as high as fifty-four grand, or more than one-half of all Americans make in a year.
-> To put further perspective on this, individuals with incomes of $11,720 a year or less are considered to be living in poverty.
15% of all Americans, or about 46.5Million of our fellow citizens and human beings are living in poverty.
For just an extra grand in KNOWN political contributions, they could punch their tickets and get into the 1% of the 1% that makes up the Political Donor Class.
Now please tell me again why we shouldn't get money out of politics and why you haven't signed on yet as a Co-Sponsor of the American Anti-Corruption Act.
http://unitedrepublic.actionkit.com/event/cosponsor/9815/
See on www.youtube.com